We were recently incredibly lucky and frightfully grateful to be chosen to review the
Hotpoint RZA36G under counter freezer
in Graphite thanks to the wonderful people at
Appliances Online
.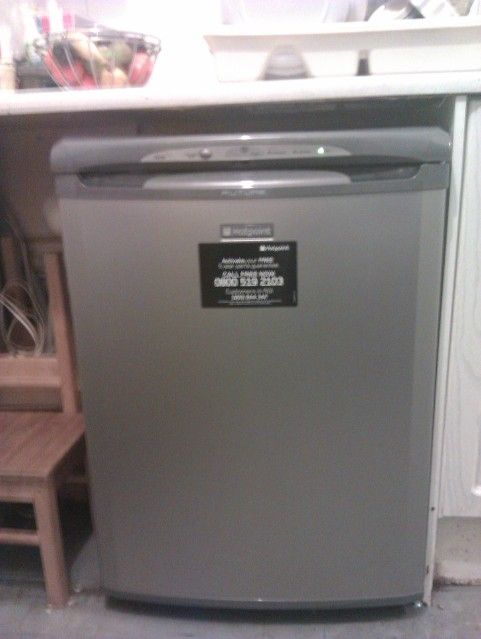 First impressions upon setting it us was sleek insofar as to say the freezer looks incredibly sleek. The Graphite colour and the slightly convex design give it a very modern look that would easily be right at home in most homes. Alternatively if you want ultra modern they also do it in an ultra chic black.
We already have an old and decrepit fridge freezer that moans more then The Husband does but unfortunately It's simply rather to small to cope with the demands of The Party of Five, fitting in the weekly shop has become a tactical and logistical art in conjunction with a shed load of luck and crossed fingers. If I ever find that sugar daddy, an American style fridge will be top of The list.
For a couple or a singleton under the counter appliances offer a decent amount of storage yet requiring little space as it makes use of under counter space yet could also be used as a stand alone product if you have the space. However as many families will agree in the current economic climate with astronomical increases in food It's becoming a nightmare to feed a family on a budget. Two excellent ways of making the most of your food budget is to batch cook and to time your trips to the super market to coincide with their daily reductions. Yet, the one thing both of these have in common is the need for a lot of freezer space. After all what's the point in buying some bargain fresh meat if you have nowhere to put it? Likewise, batch cooking saves time, effort and money yet is simply not viable if you don't have the freezer capacity. If you don't have the space for a roomy chest freezer, this is where a second freezer that fits easily under your counter comes in to it's own. Enter the Hotpoint RZA36G . With three decent sized drawers plus top skinny drawer its perfect for freezing all your bargains, your batches of home cooked ready meals as well as the family favourates. Or alternatively you could use it to to store your secret ice cream stash and emergency vodka supply, whatever freezes your boat.
The RZA36G is easy to set us, literally plug in and wait until the high temp light goes off. Simples. It boasts a nifty 'quick freeze' function which is activated by a quick press of a button which is ideal to ensure your supermarket frozen goods remain frozen after the journey from shop to home. The four main drawers feel sturdy and spacious, however they are opaque so you do have to open them to see what you have lurking in there but in all honesty It's only a minor con and If you have an organization OCD you could always get jiggy with a labeling system. Another thing worth mentioning about the drawers is that if you need that little bit more room you can easily remove the drawers and just use the crevices instead.
Personally I like the slightly convex shape however I can see that this might not be to your taste if you prefer a more flat streamlined look. I'll also admit i'm terribly shallow and love the sparkle effect at the top. The door can be fixed either side so perfect whether you're a lefty or a righty and the handle is incorporated into the design and unobtrusive. One con that was mentioned on another review of this product is the noise. I won't lie to you, It's not silent. However, neither is my ancient groaning fridge which makes far more noise then this! The noise is minor and importantly normal. According to The instruction booklet It should also decrease within a few months of use. To put it into perspective, if I'm baking or cooking in the kitchen, I don't notice it. At family meal times in the kitchen, I don't notice it. At night when everyone else is in bed, if The Husband sits at at the kitchen table which directly in front of it, he notices it. However, you can't hear it in the adjacent room nor in the room above. It really isn't an issue, especially if its a secondary freezer that you keep in a utility room or garage. It certainly wouldn't put me off purchasing. In a nutshell, It's a great size, looks good, very reasonable RRP, cost effective to run and I'd highly recommend it. If you purchase from
Appliances Online
this product is currently eligible to qualify you to receive a £50 Ocado gift voucher to use online (minimum spend £80 and offer expires on 22/10 )
Disclaimer:
I was not paid for this review and the review is an honest and genuine account of my opinion and experience of this product in my home.
I can't let this post end without saying a few words about Appliances Online. I am a stickler for good old fashioned customer service, especially as I have worked in that arena. Far too many companies lack the very basics of customer service in attitude, actions and demeanor. Not so with Appliances Direct. I can honestly say dealing with them has been am absolute pleasure. From arranging to review to arranging delivery to receiving delivery, all three separate points of contact involving four members of staff were brilliant. The staff are enthusiastic, friendly, respectful, helpful and clear. It was all effortless and seamless. They offer three different delivery slots, you get an automated reminder call on the morning of delivery and the delivery men even phoned to let us know they were five minutes away. If required they will deliver into a room of your choice, unpack and set it up for you and for a small additional cost even take away your old appliance. I really do recommend them and wouldn't hesitate should funds allow to purchase from them in future. If you don't already you can follow them on
Facebook
and take part in their fab competitions.
Disclaimer:
I was not asked to review the company and received no payment for doing so. I believe in credit where credit is due and thought it only fair to share my genuinely positive experience of the company.